Ski Area Safety and Rules
There are elements of risk that common sense and personal awareness can help reduce. Regardless of how you decide to use the slopes, always show courtesy to others. Please adhere to the code listed below and share with others the responsibility for a safe outdoor experience.
Alpine Responsibility Code
1.Respect for others

A skier or snowboarder must behave in such a way that he does not endanger or prejudice others.

2.Control of speed and skiing or snowboarding

A skier or snowboarder must move in control. He must adapt his speed and manner of skiing or snowboarding to his personal ability and to the prevailing conditions of terrain, snow and weather as well as to the density of traffic.

3.Choice of route

A skier or snowboarder coming from behind must choose his route in such a way that he does not endanger skiers or snowboarders ahead.

4.Overtaking

A skier or snowboarder may overtake another skier or snowboarder above or below and to the right or to the left provided that he leaves enough space for the overtaken skier or snowboarder to make any voluntary or involuntary movement.

5.Entering, starting and moving upwards

A skier or snowboarder entering a marked run, starting again after stopping or moving upwards on the slopes must look up and down the slopes that he can do so without endangering himself or others.

6.Stopping on the slope

Unless absolutely necessary, a skier or snowboarder must avoid stopping on the slope in narrow places or where visibility is restricted. After a fall in such a place, a skier or snowboarder must move and clear of the slope as soon as possible.

7.Climbing and descending on foot

A skier or snowboarder either climbing or descending on foot must keep to the side of the slope.

8.Respect for signs and markings

A skier or snowboarder must respect all signs and markings.

9.Assistance

At accidents, every skier or snowboarder is duty bound to assist.

10.Identification

Every skier or snowboarder and witness, whether a responsible party or not, must exchange names and addresses following an accident.
Action Rulus at Ski Resorts(formulated in October 1998) Japan Funicular Transport Association, Ski Association of Japan, Ski Instructors Association of Japan, National Ski Safety Measure Council, Japan Snowboarding Association
ALPINE RESPONSIBIRITY CODE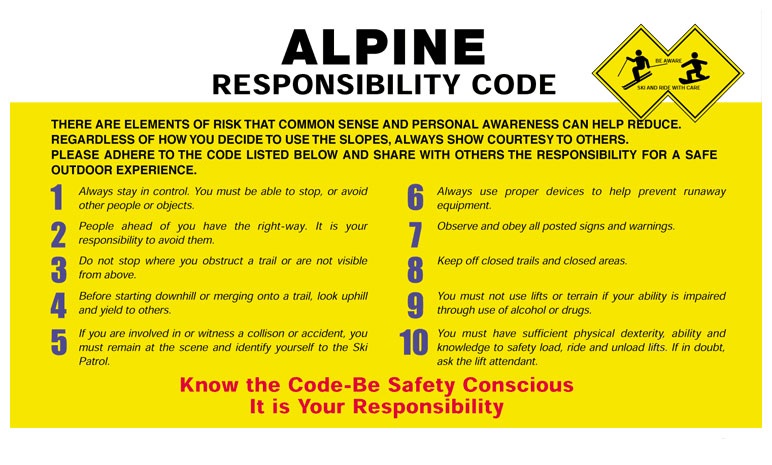 HAKUBA VALLEY Safety Tips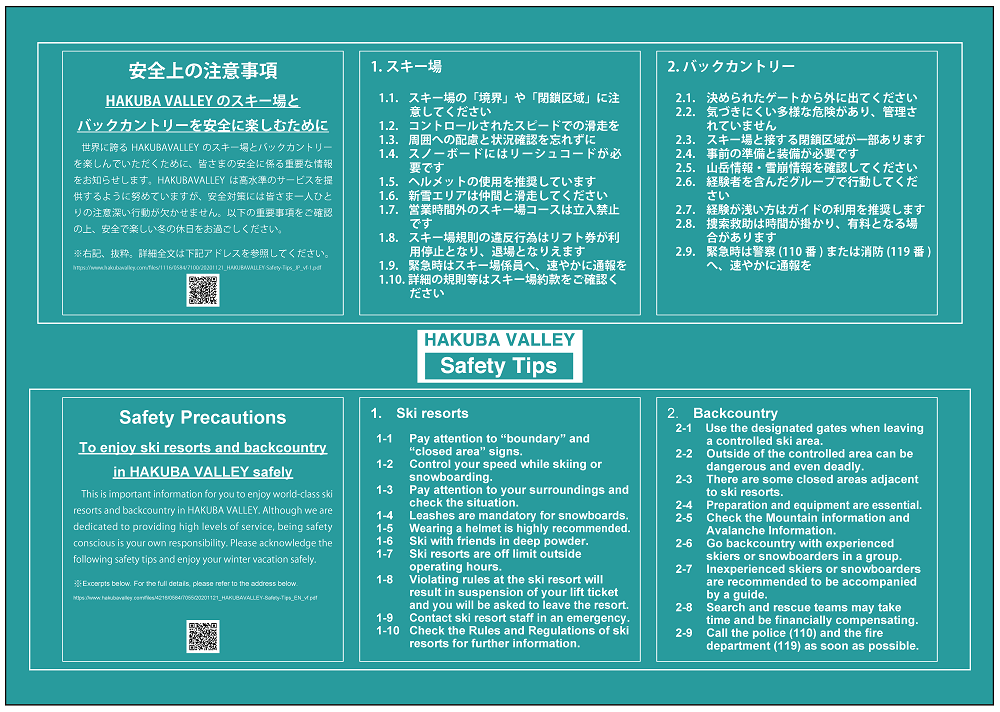 Ski Course Safety To Prevent accident
Out of boundary area, under the chair lift, and avalanche area is marked.
Boundary area making pole (yellow & black)

Restricted area making pole (yellow)
Control by caution sign

Control by ropes

Control by nets

For the safety of our guest please do not go out of ski resort boundary. We set up rope, fencing, and signs for your safety.

Time of Accident and Injury
Case of accident and Injury
In the case of emergency please contact the nearest staff.
Necessary information

Place where the accident, or injured person took place.
Injured person's name, gender, age
Is the injured person skier or snowboarder
Injured person's color of clothe
Condition of the injury
※During the time of the report, above information will help the responder for quick and accurate response.
Emergency Contact Number
Please make a call for the below number.
Prevent secondary accident
To prevent secondary accident please stick your ski into the snow like the photo. Please place the snowboard binding face down on the snow, to prevent snowboard from sliding down the slope.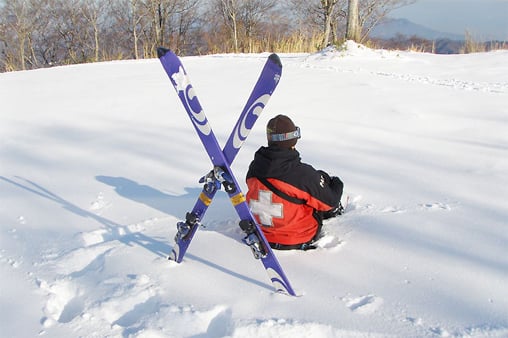 Out of Bound Area
Area highlighted red and yellow is out of bound.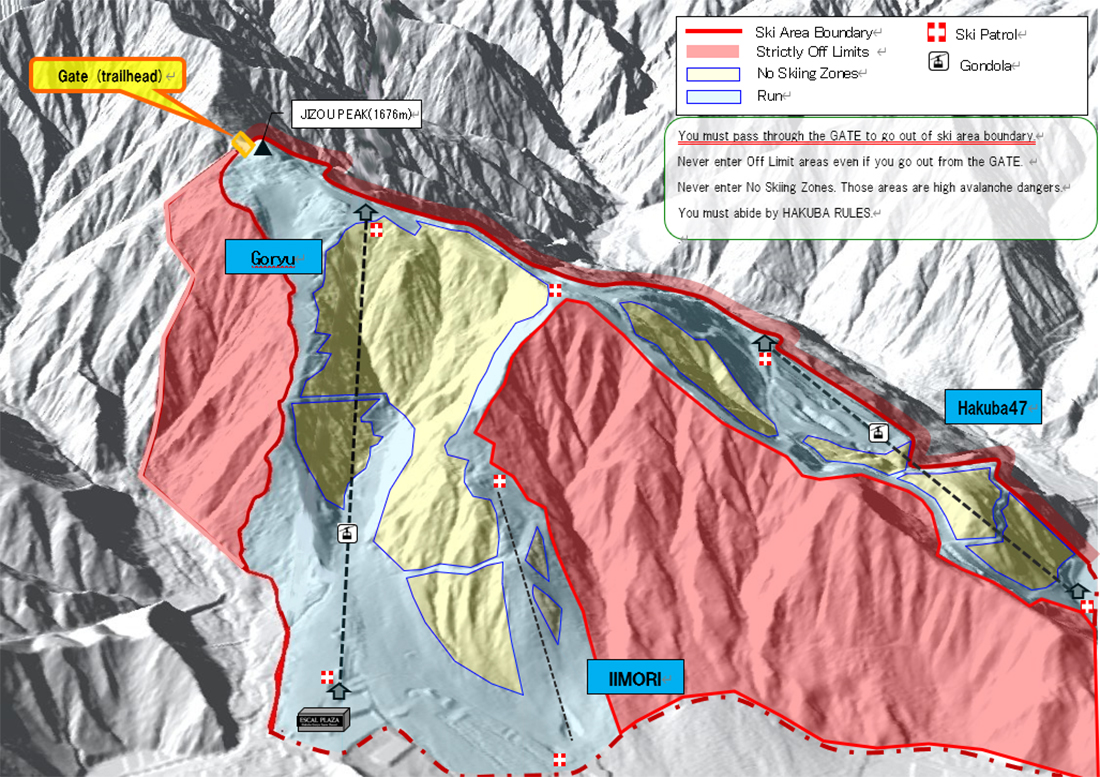 Please do not cross the fenced and roped area. Please follow all caution signs. Please stay inside ski resort boundary for your and everyone's safety. You may cause an avalanche into the ski resort by skiing in out of bound area. Ski tracks in out of bound area is made by ski patrol or inspection. If you are not sure about the boundary, please ask the ski patrol.
Search and Rescue Fee
Any out of boundary search and rescue operation will charged with no question.
Rescue Fee / per an hour

| One Ski Patrol | One Rescue Assistant | One Rescue Head quarter staff | One Snow Grooming machine | One Snowmobile |
| --- | --- | --- | --- | --- |
| ¥20,000 | ¥10,000 | ¥5,000 | ¥50,000 | ¥10,000 |
※Food expenses and any other costs may be charged upon the situation.
Avalanche Control
Test Ski
Ski patrol observe, test, and purposely trigger an avalanche before opening hour.
Hakuba Goryu ski resort's out of boundary area is a high potential area for avalanche. For the safety of the guest, ski patrol checks every course for potential avalanche threat early in the morning before opening hour. By observing day before snow fall, testing snow packs, and checking over 20 critical avalanche area's, ski patrol makes a decision to cause an avalanche on purpose by explosive or ski cutting technique.
Recently many skier and snowboarders seeking fresh powder snow, entering out of bound area. Avalanche may occur and it can injure or kill the person or other guest. Please follow the rule for yourself and others.

Document